Your Partner For A Healthy Friend

At Carrollton Animal Hospital, we believe the best care is preventive. We love animals, and know how important they are to you. Our mission is to provide the highest quality of care throughout the life of your pet.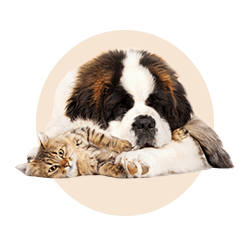 Professional Care You Can Trust
The Carrollton Animal Hospital has been a staple of Carrollton, Ohio since Dr. Keith Burgett restarted the practice in 1971 after purchasing it from the widow of the late Dr. Don Kelch. The current facility was initially built in 1974. Then in 1994 the building was expanded and remodeled to what it is today (Free Press Standard, Jan. 4, 2018). In December of 2017, Dr. Burgett retired and sold the practice to Dr. Nicole Kelleher who is continuing Dr. Burgett's legacy of providing high quality, hometown medicine. From the moment you walk through our door you will feel that friendly, personalized care that can only come with a small town. In the back, the facility is fully equipped with in-house blood machines, full digital radiography, dental radiography, new dental unit, anesthetic monitoring equipment, and surgical laser. At Carrollton Animal Hospital we strive to bring up-to-date medicine to you in an approachable, comfortable atmosphere.
Complete in-house laboratory providing quick results to get your pet the treatment it needs right away.
From heartworm, flea, and tick prevention, to puppy and adult vaccinations, we make sure of your pet's overall health.
Provides a safe, permanent form of identification for your pet. Help your best friend to come home as quickly as possible if he ever wanders and gets lost.
Acupuncture & Herbal therapy
Our team of paw-some experts proudly provides Arthritis management, Adjunctive therapy for tissue injuries, Cushing's disease management, Laryngeal paralysis, and Spinal injury therapy treatments.
Be in safe hands for all soft tissue surgeries from spays, and neuters, to lump/mass removals, amputations, laceration repair, and more.
With allergy testing through Spectrum Vet, we provide personalized treatment plans including prescriptions, limited ingredient food, herbal therapy, and cytopoint treatments.
Full Dental Evaluations & Surgery
With best-in-class equipment, we provide radiographs, professional cleaning, and surgical removal of infected teeth.
Our experienced doctors perform complete individual evaluations to discover the cause of your pet's ailment. We then work with you to come up with the best treatment plan to get your best friend back to feeling great.
Using direct digital radiography we can examine chest, abdomen, bones, and joints for and potential issues, breaks, and arthritis.
Meet Our Expert Team
Our people – the team of caring veterinary professionals working day in and out day to keep your pets healthy and active.